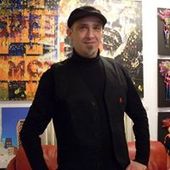 Henning Pop Art Artist
Henning O. (Ociepka) 1968 Hildesheim geb., absolvierte eine Berufsausbildung als Examinierter Altenpfleger, arbeitet in einer Behinderten Wohngruppe, ist seit 2004 als freiberuflicher Künstler aktiv. Artstyle Künstler Henning O., wurde durch Arbeiten vom Pop Art Künstler Andy Warhol inspiriert.
... more info
Henning Pop Art Artist hasn't created any events. Follow Henning Pop Art Artist to be notified when they create a new event.