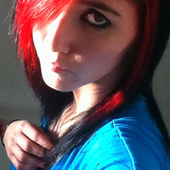 Bianca Marie Stiches
Well I'm just your average crazy person. I love anime. Especially Nartuto, Bleach, Pokemon, Digimon, Yu gi oh etc. I don't title myself as punk or emo but if you look at me yeah I kinda look it. I'm not the brightest but I love to have fun and be random. At first I'm a little shy but I open up.
Links
... more info
Bianca Marie Stiches hasn't created any events. Follow Bianca Marie Stiches to be notified when they create a new event.