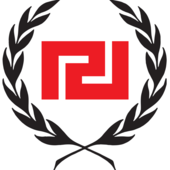 Χρυσή Αυγή Αν. Αττικής
Το Λαϊκό Εθνικιστικό Κίνημα της ΧΡΥΣΗΣ ΑΥΓΗΣ βρίσκεται στην πρώτη γραμμή του αγώνα ενάντια στο εθνοκτόνο Μνημόνιο και στο αμαρτωλό καθεστώς των κομμάτων του πολιτικού κατεστημένου. Αγωνίζεται για μια Ελλάδα που να ανήκει στους Έλληνες.
... more info
Χρυσή Αυγή Αν. Αττικής hasn't created any events. Follow Χρυσή Αυγή Αν. Αττικής to be notified when they create a new event.