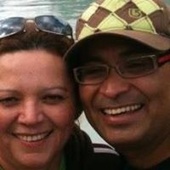 Carlos Realegeño Abarca
Un día descubrí el propósito para el cual vine a la tierra, me costo entenderlo, cometí muchos errores, tuve muchos fracasos, hasta que entendí el motivo principal por que vine, y me rendí a esa voluntad suprema, deje de luchar en mis fuerzas, y entregue mi voluntad a la de El, se lo que es vivir sin apuntar a nada, se lo que es perder el tiempo y las oportunidades, pero se también que hay una persona buena y amante que nos acepta, y nos perdona , y nos extiende la mano para darnos nuevas y mejores oportunidades, ahora yo quiero unirme a El para ayudar a otros a encontrar la verdadera razón de vivir, me importan aquellos que han fracasado , que ya no ven más que nieblas y oscuridad para seguir, para decirles que hay una puerta de salida al fracaso y una de entrada a la victoria , se que mientras haya vida aún hay esperanza ...eso quiero compartir !!!
... more info
Carlos Realegeño Abarca hasn't created any events. Follow Carlos Realegeño Abarca to be notified when they create a new event.