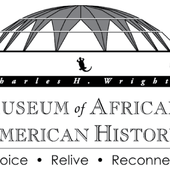 Charles H Wright Museum
The world's largest institution dedicated to chronicling the African American experience.
... more info
Upcoming & Live Events
LIBERATION 2
Archived Events
Liberation 2

A TRIBUTE FOR SPENCER HAYWOOD

THE SKY, CHILDREN'S MEMBERS...

AARP MICHIGAN'S GRANDPARENT...

AFRICAN MARTIAL ARTS

WSU School of Medicine Post...

Town Hall Meeting with Ed G...

Freedman's Bank 150th Anniv...

Grace Lee Boggs 100th Birth...

Creating "The Fifth Letter:...

Ballet Renaissance Live

COURAGE TO CARE

ALD2K15

Load More

Why The Arts Matter: A Conv...