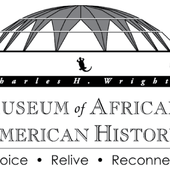 Charles H Wright Museum
The world's largest institution dedicated to chronicling the African American experience.
... more info
Archived Events
Town Hall Meeting with Ed G...

Freedman's Bank 150th Anniv...

Grace Lee Boggs 100th Birth...

Test

Creating "The Fifth Letter:...

Ballet Renaissance Live

COURAGE TO CARE

ALD2K15

Why The Arts Matter: A Conv...

USPS STAMP UNVEILING OF THE...

Meet The Scientist featurin...

WOMEN'S HISTORY MONTH TRIBU...

BLACK MARRIAGE DAY 2015

THE SECRET SOCIETY of TWIST...

SECRET SOCIETY OF TWISTED S...

THE SECRET SOCIETY of TWIST...

Load More

Noel Night Live from The Wr...