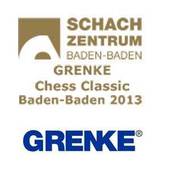 Grenke Chess Classic
For the first time ever the Baden-Baden Chess Centre (Schachzentrum Baden-Baden) is hosting a Category 19 GM tournament, the Baden-Baden GRENKE Chess Classic, continuing the tradition of great chess tournaments that the well-known southern German spa town has established over the last two centuries.
Links
... more info
Grenke Chess Classic hasn't created any events. Follow Grenke Chess Classic to be notified when they create a new event.