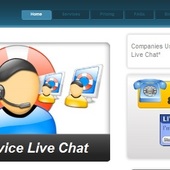 Live Chat Outsourcing
Enterprise outsourcing solutions for IT, Website Development, Design, Programming, Technical Support, Live Chat and BPO, KPO services. Comprehensive staff leasing services with USA management and experience overseas in India, China and Philippines.
... more info
Live Chat Outsourcing hasn't created any events. Follow Live Chat Outsourcing to be notified when they create a new event.